Snack video download
Your link should look like this:
https://m.snackvideo.com/on/snack/share?userId=150000613878182&photoId=5190548569856117543
or
http://sck.io/p/5iGfeudm
The best way to download Snack video is to insert the link on our website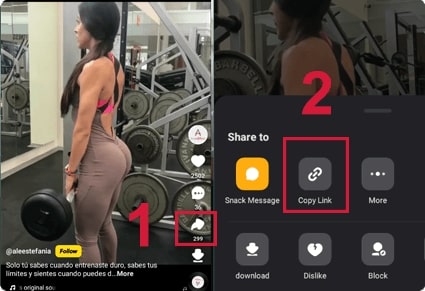 Follow these simple instructions to download Snack video without watermark
How to use our Snack downloader?
Open the video which you want to download on your mobile device
Tap "Share" and then tap "Copy link"
Insert the link on the main page of our website and press "Download"
Please, make sure that your link looks like this:
http://sck.io/p/5iGfeudm
https://m.snackvideo.com/on/snack/share?userId=150000613878182&photoId=5190548569856117543
GetSnackVideo is one of the most popular tools to download Snack videos. It works perfectly with watermark and no watermark and no need to install any apps to use our service, all you need is a browser and a valid link which you paste on the main page.
Why you should use Snack video downloader:
Snack video download without watermark. It's a perfect solution for editing and publishing videos.
It is free. You can download Snack videos as many as you want. We only have some ads on the pages.
Snack username is not required. Just open our website and paste the link.
Pretty fast Snack video download.
Works in every browser and operating system.
Here are some ways for online Snack video download:
1. Download video Snack on mobile phone
If you want to launch Snack video download on your mobile phone, you need to launch the original application and find the video you want to download. When you are on the video viewing page, you will see the "Share" button on the right side of the screen. Click it, and then select "Copy link" After that, open GetSnackVideo webpage and paste the link. On the next page click "Download without Watermark".
If this method does not suit you, read the instructions below.
2. Snack video download without a watermark on a PC
This method is universal and convenient because the video will be saved without a watermark with original quality.
PC users are not required to install any additional software, and this is another plus of this method. In order to use download Snack video online free for PC, you need to copy the link, as indicated in Method 1. Next, go to GetSnackVideo and paste the link on the main page. After that, you need to click on the "Download Snack video" button.
If you have an iPhone or iPad, you can also use online Snack video downloader, but you will need to install the "Documents by Readdle" app from the AppStore. Copy the link of the Snack video and launch Documents by Readdle. In the lower right corner of the screen you will see a web browser icon. Click it. When the browser is opened, go to www.getsnackvideo.com and paste the link to the video. The video will be saved to your device.